Vorträge, Workshops & Texte  |  lectures, workshops, texts
Kommunikation im Netz  |  communication on the net
Die Möglichkeiten, im Internet miteinander in Kontakt zu treten und Nachrichten auszutauschen, sind vielfältig. Soziale Netzwerke, e-Mails, insbesondere virtuelle Konferenzen: All diesen Wegen ist im Gegensatz zum direkten persönlichen Austausch eins gemein – es fehlt die umfassende Abbildung der realen Situation, auch werden die Reize des Gegenübers kaum übermittelt.
Die Kommunikation im Internet hat ihre eigenen Regeln – diese zu kennen ist in vielen Lebenssituationen hilfreich und im Beruf nicht selten eine Überlebensstrategie.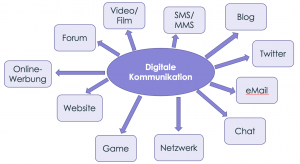 There are many ways to get in touch with each other and exchange information on the net. Social networks, e-mails, virtual conferences in particular. In contrast to face to face exchanges, all these methods share one common trait: There is no comprehensive representation of the real-world situation. The facial expressions and gestures of the other person are hardly transmitted and lack transparency.
Communication on the net has its own rules. Knowing them is helpful in many situations in life and often a necessary survival strategy in  professional life.